WELCOME TO GLAMLAND™ & THE WORLD OF GLAMGLOW®
Co-founded by Shannon Dellimore and Glenn Dellimore in 2010, GLAMGLOW® was originally designed as a behind-the-scenes beauty essential for Hollywood's entertainment, music, fashion, and award industries.

In 2011, GLAMGLOW® became available to consumers worldwide. The first product, YOUTHMUD® Tingle Exfoliate Treatment, was developed with innovative science that still powers the brand today, the patented TEAOXI® real-leaf steeping technology. GLAMGLOW® is now one of the hottest brands in skincare. In addition to cult-favorite mask treatments, which have garnered over 50 prestigious beauty awards, the line has expanded to include skincare and skincare-makeup hybrids.
Designed for men and women of all ages and skin types, GLAMGLOW® promises an Instant Sexy Hollywood Glow.
HOME IS WHERE THE STORY BEGINS...


Shannon and Glenn were enjoying an evening with a few friends in the Hollywood Hills when an actor friend confided that he could not find a product that made his skin instantly camera ready. Long-haul flights and long hours on set left him needing something to smooth his skin, refine pores, reduce fine lines, diminish imperfections, and give his skin a noticeable glow that would last for days.

The verdict was unanimous: there was no convenient, easy-to-use skincare product specifically designed for instant camera-ready skin. All products on the market offered results in weeks or months, but nothing immediate.

With the handful of willing celebrities as test subjects, Shannon and Glenn set out to create a product just for their actor friends—not for sale, not for retail, and not limited by any production costs. Even though the economy had just crashed, they just bought their home, and they were due to have their first baby, they took a chance and $80 to buy the ingredients they needed.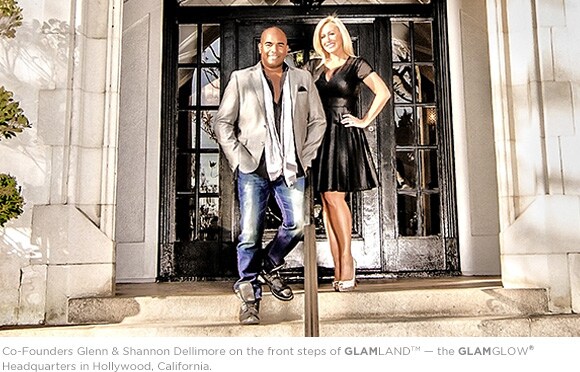 They found a small family-owned factory to make the formula and filled plain white sample jars with the magic mud in their own home (on their coffee table with kitchen spoons) to give to their friends. A week later, all of their friends came back saying, 'Wow, that stuff really works!' and asked for more for themselves and to share. The little samples had no label and no packaging, but were being requested by top entertainment executives and other A-list actors. Word spread fast.

With increasing requests, Shannon and Glenn began to sell the 'no name' magic mud to Hollywood studios, which provided the product to actors and their make-up artists. Within a year, their product was used all over Hollywood.

One evening, the phone rang and the Vice President of a major luxury retailer was on the line: "A friend of mine gave me your product to try and the results blew me away, I have my buyers on the phone, too, and we would like to retail your amazing product alongside the world's most luxurious brands." All they needed was a brand name and packaging.
That evening, on the same coffee table used to fill the first jars, paper, scissors, tape, and a pen and created the first concept box design and brand name. It had to be sexy, descriptive, and fun. It had to make you feel glamorous and leave you glowing. It had to be GLAMGLOW®.